Club Championship
The 2022 Club Championship will be held on Aug 27th and 28th, 2022 (RESCHEDULED DO TO RAIN OUT). Sign up is live now..
The 2021 Club Championship was held August 28-29.
Congratulations to our 2021 Club Champion Jeff Werstak on a two day total of 160 to take the gross title . Tom Yocky finished second (162) and Tim Aiken and Jon Kunkle finished 3rd at 164.
Brad Upperman won the net division with a two day net total of 140 ( 2 under par), including a net 65 on Sunday. Steve Crane and Paul Manley finished T-2nd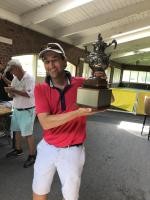 Jeff Werstak with the Club Championship Trophy
2021 Summary 2021 Full Results
2020 Summary 2020 Full Results 2020 winner Rich Rizzo with trophy
2019 Summary 2019 Full Results
2018 Summary 2018 Full Results