Welcome to the Winnetka Men's Club
Final Winnetka Cup Event was held October 2
We had 22 players play in session #3 of the 2021 Winnetka Cup. The Oaks persevered over the Elms 10 1/2 to 7 1/2 in this session. Click here for results. For the year Year, the Elms won the overall competition 27-21.
Congratulations to Jeff Werstak for winning the Club Championsjip.
We had a hot, humid weekend but the golf was great! Our 2021 Club Champion is Jeff Werstak, who rallied from behind with a 77 today for a two day total of 160 . Tom Yocky finished 2nd and Tim Aiken and Jon Kunkle finished T-3rd.
Our 2021 Net Champion is Brad Upperman, who played a flawless round Sunday to post a net 65, and a 2 day net of 140. Steve Crane and Paul Manley finished T-2nd.
Here are the full results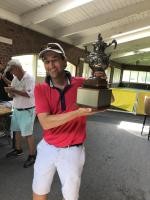 Jeff Werstak holding the trophy
Upcoming Events
Match play events are close to being completed. Check the brackets. Keep the matches moving along!
The Year End dinner will be scheduled shortly. At the dinner, there will be a presentation on the course rennovation to begin in November 2022.
Weekly events have now been completed
The final Money list will be updated this week.
Are You New to the Area and Looking for a great Place and Group of Guys to Play Golf With? Join The Winnetka Mens Golf Club! Click here to find out more.
2017
Update on Winnetka Golf Club course construction
The Proposal by the Village of Winnetka and Winnetka Park District to update the golf course as part of the stormwater plan is moving forward. There is not a definative start date; we thought it would close after the 2021 season, but now (7/1/21) we are told that it will remain open in 2022. As we have actual dates and a timeline, we will let you know.
July 1, 2021 update: "The Village of Winnetka's Stormwater Project continues to gain great momentum. The Village board of trustees, staff, and partner experts have secured in-depth engineering designs and construction plans, along with better insight into the overall timeline.

Based on the current Stormwater Project timeline, the Winnetka Golf Club will be open for play in 2022. Keep an eye out for another update later this summer with more specific details."
Winnetka Golf Club Action Plan for 2021

Weekly updates will be posted using Rainout Line (if you do not have the App, load it on your phone)
Superintendants Update
Matt McCann is using Rainout Line (download the app) to address the ongoing maintenence of the golf course. We will post Matt's comments as they are updated, which will include the weekly schedule, Bunker maintenence, the Ponds and Dandelions.